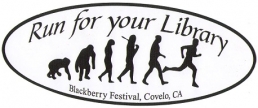 Footrace Facts: 5K or 10K runs and 5K walk.
Starting time: 8:00 am Sunday August 17th. Same day registrants come early to the Library Commons which will be open at 7:00 am on race day.
Location: Race starts in the center of town at Howard and Commercial Streets.
Divisions: Six different age groups, male/female, wheelchairs.
Awards: Trophies to winning male/female 5 and 10K runners; ribbons to top three finishers in each division plus all entrants eligible for door prize drawing.
Fees: Early registrants $12.00; Race day registration $15.00. Runners under 14 free with a parent participant.
How to register early: Print entry form and mail by Tuesday, August 14 at the latest or bring it to the FRVPL booth at the festival on Saturday. Entry forms will be available at the FRVPL booth as well.
Record holders:
Women's 5K run: 21:52 Donna Shuler, Willits, 1989.
Men's 5K run: 17:12  Louis Rivera, Covelo, 1993.
Women's 10K run: 37:37 Laura Damiano, Fort Bragg, 1990.
Men's 10K run: 33:42  Terrance Boynton, Cupertino, 1990.